A co-production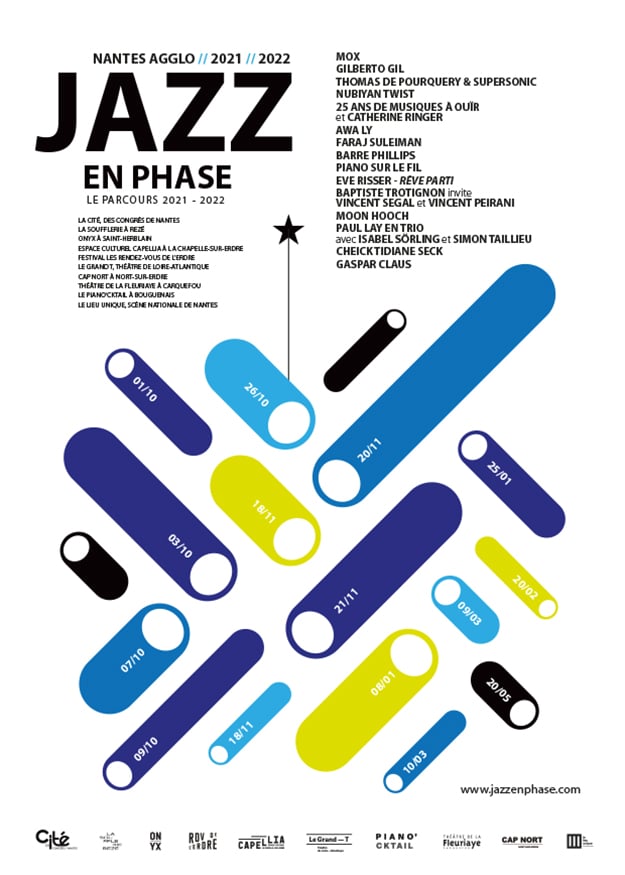 The "Jazz en phase" season offers local residents a programme dedicated to Jazz. In the various music halls throughout the Nantes urban area, the audience will be shown the many trends and directions in modern Jazz. Ten cultural players based in Nantes take an active part in this great project :
La Cité Nantes Congress Centre
La Soufflerie, Scène conventionnée de Rezé sur l'axe voix
Le Théâtre de La Fleuriaye Carquefou
Le Grand T, théâtre de Loire-Atlantique
le lieu unique scène nationale de Nantes
ONYX-La Carrière, Théâtre de Saint-Herblain
le Piano'cktail à Bouguenais
Les Rendez-vous de l'Erdre ;
Cap Nort à Nort-sur-Erdre
Capellia à La Chapelle-sur-Erdre
This new route will be marked by current jazz trends. Renowned artists will be present throughout the year with 11 concerts in 7 performance venues.
La Cité / La Soufflerie / ONYX / Capellia / Les Rendez-vous de l'Erdre / Grand T / Cap Nort / La Fleuriaye / Piano'cktail / le lieu unique