La Cite Nantes Congress Centre for your next events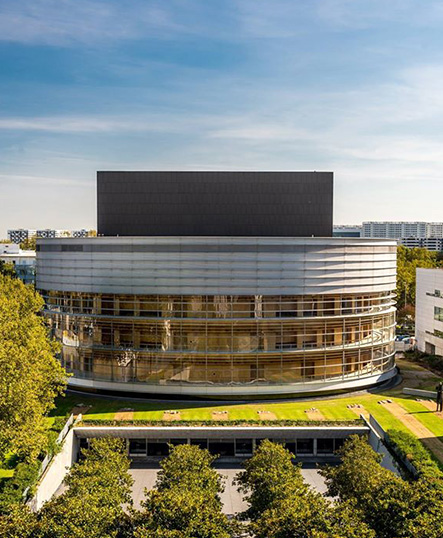 La Cité

Nantes Congress Centre

Created over 30 year ago, La Cité Nantes Congress Centre has made a name for itself among the top French convention centres.

As an economic and cultural tool of global exposure, it is home to the most stunning French and global events and actively contributes to the reputation, attractiveness and development of the region.
La Cité Nantes Congress Centre hosts over 300 business and cultural events every year, bringing together more than 600,000 visitors, 30% of which are international. Since the beginning, La Cité's experience in supporting large-scale events has resulted in major economic benefits for the region.
For nearly 30 years, La Cité's dedicated team has built a solid trusting relationship with the various regional players and organisers of corporate and cultural events.
« Cohesion, kindness, friendliness and enthusiasm, customer focus and expertise, ambition and efficiency, reactivity, flexibility and innovation" are the true values of the congress centre that make events held at La Cité successful.
The congress centre acts as a hub of meetings and exchanges in the areas of regional cultural, economic and scientific expertise.
La Cité Nantes Congress Centre is a major player for the development of the region and the promotion of the destination. As a tool of national and global exposure in the economic, cultural and scientific fields, La Cité is engaged in a continuous improvement process making it possible to have an ongoing competitive offer and respond to challenging markets.
For more than 15 years, the Congress centre has pursued an eco-responsible approach. With the certifications ISO 9001, ISO 20 121 and the Quality & Sustainability Charter of France Congress, La Cité is the only French convention centre, among 30 venues worldwide, that has received the AIPC 'Gold" Quality Standards, the highest level of achievement in terms of process and customer services.
Sustainable event management is a key issue and an inherent value that is reflected in the strategic foundation of the congress centre. In this context, the team at La Cité endeavours to build a collective narrative approach to environmental commitment with their clients and visitors. The aim is not only to respond to the new requirements of the meetings industry, whether corporate or cultural, but also to ensure that our compliance with environmental, societal and economic commitment is embedded, individually and collectively, in our activities, in the relation we have with you, with our partners and in our services.
La Cité des Congrès de Nantes – Laurence Caillabet – 25/3/2019
Read more ›